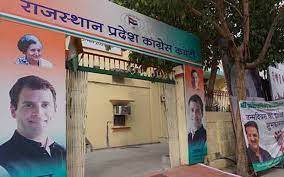 with the foundation stone to be laid by party president Mallikarjun Kharge and MP Rahul Gandhi at an upcoming party worker convention. The new building, costing ₹76 crores, will occupy 6000 square meters in Jaipur's Mansarovar area, provided to the party by the Rajasthan Housing Board at government rates.
The decision to construct a new party building stems from the challenges posed by the current office's location near Jaipur's old walled city, causing issues related to security and traffic during party events. The new headquarters will offer modern amenities and more space for party activities and office functions, according to party spokesperson Swarnim Chaturvedi. The construction will be funded by approximately 25 lakh party members, raising the required ₹76 crore.
Party state president Govind Singh Dotasara announced that over two lakh party officials at various levels, from state to village, would contribute to the building's construction. Additionally, funds will be collected from around 23 lakh party members, with a dedicated committee overseeing the collection and construction process.