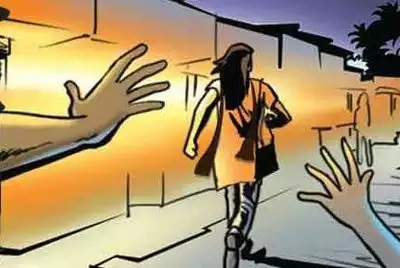 Lucknow: A 17-year-old girl student died after two molesters pulled her dupatta, causing her to fall, and another motorcyclist ran over her in Uttar Pradesh's Ambedkar Nagar district. She was returning home from school on Friday, when she was accosted by the miscreants. The victim suffered a broken jaw and severe head injuries and bled to death.
A video of the incident went viral on social media, prompting the police to take action and arrest the three accused: Mohammed Faisal, Shahwaz, and his brother Arbaaz, all in their early 20s on Saturday.
Shahwaz and Arbaaz were riding a motorcycle and allegedly pulled her dupatta with the intention to outrage her modesty. When the girl tried to pull her dupatta back, she fell on the ground. Another youth identified as Faisal happened to pass by and ran his motorcycle over her, crushing her head.
The miscreants fled the scene as commuters rushed the victim to hospital, where she was pronounced dead.
Ambedkar Nagar superintendent of police Ajit Kumar Sinha, said that the police have registered a case of outraging modesty and causing death due to negligence against the three accused and arrested them.
The gruesome incident has evoked strong protests from residents, who said that the police have failed to control the miscreants who target girls. They said that the victim lost her life due to the molestation incident and Faisal's careless driving.