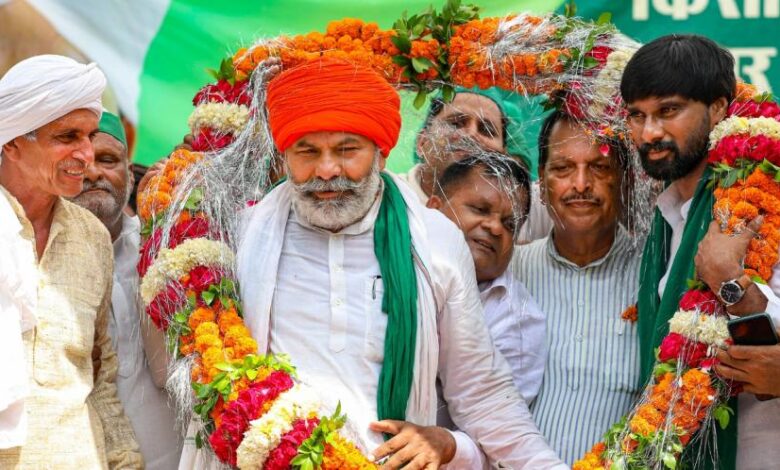 The Bhartiya Kisan Union (BKU) has raised concerns about the Uttar Pradesh government's failure to fulfill its commitment to provide free electricity to farmers. BKU leader Rakesh Tikait has threatened to organize a statewide protest among farmers, demanding the clearance of pending sugarcane dues, an increase in the minimum support price, and the waiver of electricity bills.
Speaking at a large farmers' assembly in Lucknow, Tikait criticized the Yogi government for not delivering on its pre-election pledges. He mentioned that the state government had assured free electricity for irrigation during the assembly elections, similar to the policies implemented in Punjab, Telangana, and Andhra Pradesh. However, this promise has not been realized in Uttar Pradesh. Furthermore, the government's commitment to clearing sugarcane dues within 14 days with interest for delays has also gone unfulfilled. Tikait remarked that farmers haven't received even their principal amount, let alone the interest.
Tikait announced that farmer's assemblies are taking place in every district of Uttar Pradesh. If the government does not fulfill its commitments and meet the demands of the farmers, a statewide protest will be initiated. Contradicting the Uttar Pradesh government's claims of settling cane dues, Tikait pointed out that sugar mills owned by the Bajaj and Modi groups have not paid farmers for the past year, with no actions taken against them. He argued that farmers' cane dues should be settled using the digital India formula proposed by Prime Minister Modi.
Tikait also mentioned the losses incurred by farmers due to floods in Uttar Pradesh, highlighting that although a crop survey has been conducted, no compensation has been provided. He accused the state government of planning to increase electricity charges for tube wells by up to ₹100 per hour.